Do you want to boost your immune system during winter time?
Then I have the right recipe for you.
But not only that. There is a little bit more that I want to give you over the next 24hours.
Maybe your health needs a little booster?
So a Beety-Berry-Bang would definitely add to it.
But maybe there is more you can do.
Most of the time we eat three meals a day.
So what about the other two?
Why not use this year to really clean up your diet?
Or at least to improve your eating habits?
To make this happen, I have a beautiful gift for you.
Nope, it is not only the recipe for the Beety Berry Bang. But with the recipe you get the taste of it.


It is a FREE copy of my E-Book "The Conscious Eating Evolution"!
But before we get to the GIFT instructions, I give you the recipe for the Beety-Berry-Bang.
Recipe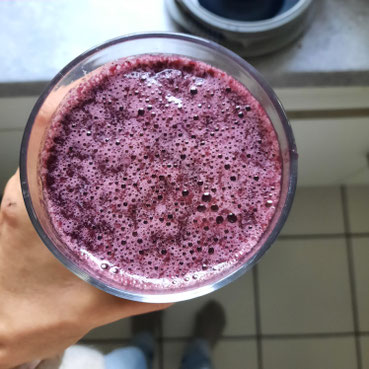 1 small to medium red beet
1 cup of blueberries
1 orange, lemon or grapefruit
1-2 Bananas
Ginger
1-2 tbsp of flaxseeds
300 -400 ml of water
1 tbsp of powdered greens of choice like spirulina or barley powder
Throw all ingredients into the blender and blend until smooth! You can always add more greens if you like, reduce or add more beets depending on your taste.
The recipe here is a little different from the one in my E-Book. Always see recipes as inspirations and add your own twist or change to them. This time I had it with a grapefruit and I loved the bitterness with it.
Instructions to get the FREE E-Book.
Now really connect to your heart center, breathe deeply and ask yourself what are your intentions for this new year? Maybe you have put a lot of thought in it, but maybe you stumbled in and haven't really made up your mind yet. This happens too!
My intention really came through today.
And giving my E-Book out for free is part of it.
So what I want you to do is to write me an email to info@soulfulcircle.org with your intentions for this new year. Please do this within the next 24hours, as the doors will close on January the 10th 2023 at 6:30pm CET.
So don't postpone, do it now or a little later when you have your intentions set.
I am excited to hear from you!
Much Love
Carina