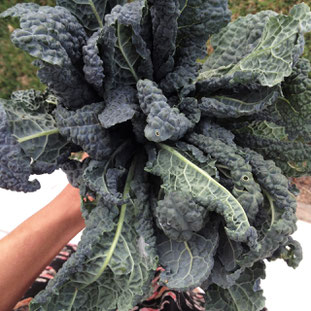 What a beautiful flower bouquets 😉

One that really makes me happy!

As I am currently living in the sun, I was desperate that I would have to live through all these winter months without kale on my plate – which I LOVE for my Salads. It is interesting that in Germany they usually only produce and sell it in the winter, I know from my time in the U.S. though that you can get it all year round which always excites me when I visit.
But I was able to accept the exchange of missing out on kale for an abundance of local papayas and avocados and one of my other green favorites: watercress.

About two weeks ago, I was with my mom on the phone, and somehow we talked about kale. And I said it seemingly doesn't grow here on the island, at least I haven't seen it anywhere to buy so far.


Last week I was on the phone with a dear friend of mine who is currently visiting me here on the Island. He asked me if there is anything to bring that I don't get here and suggested as he knows about my love for Kale to bring some in his luggage (of course, it was a joke).


Well, the day after the call with my friend I went grocery shopping at my favorite local organic shop, where I can get some of my weekly greens, stables, and other foods that are mostly from local farmers here on the island. I usally visit it on a different day of the week.
As I asked what greens she has today, she answered to my SURPRISE among some others:  KALE!


As she said the MAGIC WORD, I danced in my head through the shop! She made my DAY.


And I even found out that she has it every week. What a bountiful blessing to me! I just have to come on certain days, so it won't be sold out when I used to come in. WELL, I make that one work!


And I wholeheartedly thanked the universe for bringing Kale back to my table!


Of course, I made a Kale Salad for Dinner, with what I had at home that eve. The Sauce is my always go to when I use Kale for my Salad - it is fast, simple, and delicious AND you don't have to use any extra equipment except your hands and a spoon if you need to measure.


This is such an easy recipe. It is one of my number one go-tos when I lack time, don't feel like cooking or just want a hearty meal to satisfy my taste buds and hunger.


As I have been blessed with KALE, I now bless you with this free recipe.


HERE IS ALL YOU NEED TO KNOW:
---
INGREDIENTS for one person:
about 180g Dinosaur Kale

 

1 big Sweet Potato

 

2 hand full of cooked chickpeas

 

½ avocado

 

slightly roasted pumpkin seeds

 

3 baby bell peppers (if you dont have them use a regular bell pepper)


 

garlic powder

 

sweet paprika powder
Sauce:
 

2 Tbsp Tamari

 

1 big Tbsp Tahini

 

½ the juice of a lemon

Splash of your favorite hot sauce
---
1. (Preheat oven 150-180degrees) Peel the sweet potato if not organic and chop into similar sized cubes. Put on a baking tray. Sprinkle with some salt and if you like a little garlic powder. Put into the oven and bake for about 20-30min until they are baked thoroughly.
2. While the sweet potato is baking: Clean up the Kale, remove most of the stalks, chop finely, wash and dry thoroughly with a towel if you don't have a salad spinner. (If you have a juicer you can keep the stalks and use for juicing.)
3. Take out a salad bowl, put in the kale, and add the dressing ingredients. Begin to massage your kale with your hands to distribute the tahini, the tamari, and lemon. Continue until the kale has softened a bit and is well covered with all the dressing flavors. Massaging the Kale is one of the most important steps when making a Kale Salad, never skip that one ;)!
4. Wash the chickpeas and flavor them with some garlic powder, sweet paprika powder, and a dash of salt. Place them on to the tray with the sweet potato cubes after they have been about 15min in.
5. Cut open an avocado, use one half and cut into small cubes.
6. Chop your bell pepper finely and add into the bowl.
7. If you haven't on hand, slightly roast some pumpkin seeds to enhance their flavor. Don't roast too high or too much, just add a little bit of crisp. You can roast more than you need for the salad and store them in an airtight container to use for other meals.
8. When the chickpeas and sweet potatoes are done, turn off the oven and add to the bowl. If you like it spicy sprinkle with some hot sauce and then add the pumpkin seeds. And you are ready to dine. For the lazy bugs, you can eat straight out of the bowl and for others serve on a plate.
ENJOY and let me know if you liked this recipe!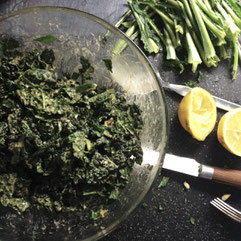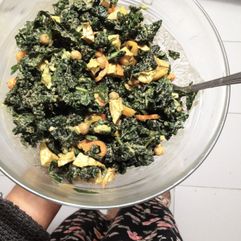 Kale is such a wonderful green. It is not only jam-packed with cancer-fighting properties and loads of fiber, but it is also very satiating and filling, even as a salad. If you never feel satisfied after eating a salad or want to get more greens into your diet and have never been a big salad eater, try Kale as the stable.


And if you have leftovers – with Kale no problem. Compared to other greens, it doesn't get soggy. You can store it in the fridge till the next day. And if you want to plan a little ahead while making dinner, make more and take it with you for the next day's lunch or eat once more for dinner!
And nope, I am not working for the Kale lobby (does this even exist?)!
I just genuinely LOVE Kale.

I hope you love this simple recipe too!