I have been enjoying this combo over the past couple weeks and have to say, I have never been a big pancake indulger but during my last stay in the US my friend and I really got into a couple of days of this beautiful Pancake-Nice-Cream-Creation and even created a National Pancake Day for the two of us (lol). Of course all with pure and nourishing ingredients! So, I had to make a recipe from our intuitive endeavors.
There was no way around it!
No matter what dish you know or have, I always suggest making a healthier version of it! You don't have to throw out the Ice Cream completely, make your own from frozen fruits and nut butter and add a dash of date syrup for extra sweetness if needed. You dont have to skip the pancakes entirely if you love them, use more pure and nourishing ingredients – there is no need for eggs, cows-milk or butter and you can upgrade to whole-grain, instead of using white flour.
This combo is comforting and nourishing … and I have to say really delicious and fun! 

Ingredients for about 9 Pancakes
---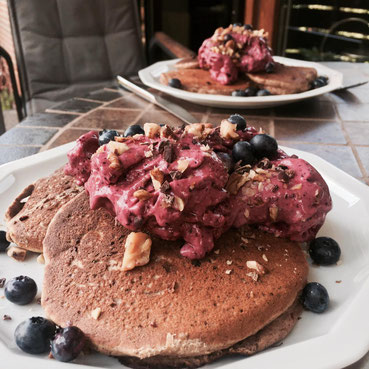 DOUGH:

200g whole grain buckwheat flour

250-300ml oat milk

2 medium-sized bananas

100ml Sparkling Water

3 big tbsp of grounded flaxseeds

1big tsp baking soda

dash of cinnamon

 s

prinkle of salt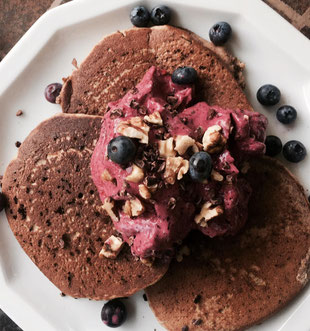 BERRY NICE CREAM:

 4tbsp coconut yogurt

 300g frozen berries (blueberries + raspberries go well)

 160g frozen bananas

 dash vanilla

optional: a dash of vanilla bean powder
 Additional options for topping:
 almond butter or peanut butter, walnuts or pecans, hemp seeds, cacao nibs, date syrup or naughty maple syrup
INFO: Always read the ingredient list of nut-butter when you buy them. There is no need for extra oil, sugar, or whatsoever to be in them. Find a clean brand!


Let's Go!
---
  STEPS:
 1. Make the Pancake Dough:
Take a big bowl and mash the bananas with a fork into a mousse. Add about 250ml of the plant milk and mix well. Now add the flour, the grounded flaxseeds, the baking soda, and the sparkling water, stir well. Add cinnamon, if you like and a sprinkle of salt and mix with the leftover oat milk. The dough should be thick, slowly running from a spoon.

2. Put a no non-stick pan on medium heat. If you have a good pan, you don't need any oil for this! And wait until the pan is evenly heated. Make three pancakes at once and use about two tablespoon heaps of the dough for each pancake (maybe a little more, I don't fully remember). Wait until pancake dough rises with bubbles and until quite firm on the baking side, then flip and bake the other side until done.
 3. Meanwhile, make the topping:
Put the Nice Cream ingredients into a blender and blend until creamy. Taste test and add a dash of date syrup if needed, blend once again. Depending on the blender you are using you might have to scrape the Nice Cream of the sides and mix again, repeat until creamy.
4. Place the pancakes on a plate and spread some nut butter on top and add the Berry Nice Cream. Now the fun part. Decorate it with your own kitchen magic. You can sprinkle some cacao nibs, coconut flakes, pecans or walnuts or hemp seeds on top, add some fresh berries and your blessings to the meal if you like. And of course, if you need to some extra date syrup or the naughty maple syrup 😉 go for it.
Bon Appetit!
Additional Info &  Further Recipe Suggestions
---
You can bake the pancakes all at once or store the dough. It will last about three days in the fridge if you cover it well. You can then make them fresh when you want to eat them and have sth. set for three days. You might have to add a little splash of plant milk, every time you take it out to bake another round. This is perfect when you are by yourself, as you have one meal covered for 3 days.
I used 3 pancakes per person, and I would consider myself as a good eater. See and try how much you need yourself!
 HEARTY OPTION:
 If you are more on the savory side of the spectrum, these pancakes are also delicious with hummus, hot sauce, fresh cucumbers and tomato and greens on top! For real! Instead of eating them for breakfast, I have been eating them for lunch. Just please don't limit the amount of hummus you use, be generous 😉. Of course, you can use any other spread as well!
 
WINTERTIME OPTION:
For those in the winter months, you might want to slightly heat up some berries in a pot instead of eating them with Nice Cream or even better make the Nice Cream just out of bananas and put the warm berries on top.
I have to try this, sounds like fun!
 So many wonderful variations and possibilities – enjoy and play with it!
 Just keep it clean and nourishing!
Much Love
Carina
P.S: Let me know if you liked the recipe!